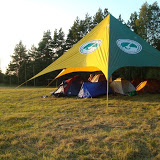 It was almost the end of another year, the long icy and snowy days of Ankara were over, at last. People were planning their holiday and busy with the routine end of year work at school.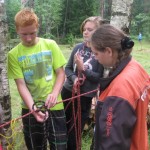 That was the period when, we have initiated the "International Award Program" (*1) with a small group of students, to begin with. Those who were committed enough to this program, were surprisingly invited, for an international "award" camp in Latvia. It was going to be only few weeks later and as things happened, I needed to leave my suit-tie and also holiday plans aside and found myself in charge.
Being born and grown up in big city, I was in fact not much willing to attend this event. Since I have never had a similar experience before, the idea of staying in tents for a whole week, made me uncomfortable. Along with my professional responsibilities, it seemed obvious that, this would be a new learning experience. I thought to myself, I could end up in a guest house, which can hopefully be around the camp.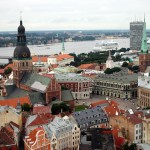 We flew to Riga with our tents and other equipment. First we started to drive in an old taxi along big boulevards, then for several hours on almost empty country roads. Sometime after, even the dirt road has finished, we arrived at Lejas-the award camp area in the forest. Some boys from the host group, skillfully built our just purchased tents. And then, there we were, in the middle of nowhere, with total strangers.
We were certainly far away from any comfort or civilization. The participants

were students of the same age group from Latvia, Estonia, Russia, Holland, Israel and us the small group of Turkish girls and me. It was an unusual and interesting togetherness. Experienced and caring colleague Inara ROZINA was the camp manager.
The first evening at the site, there was a big camp fire and the groups started to introduce who they are, where they come from, what they do in their daily lives. Very early in the mornings of the following days, other specially planned group activities were put into action, one after the other, by Inara's well-trained team.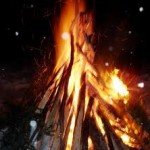 Duke of Edinburg International Youth Award program is designed with the main purpose to make the students understand and learn by experience that, their education consists of "other things" than their exams and academic achievements, as well. The group activities and workshops at the award camp were certainly in accordance with this ultimate aim. They were all challenging and joyful; sail at the Baltic Sea, canoeing, rafting in a nearby river, horse riding, to milk farm animals, learn how to make cheese, learn local folk dances, on-route map reading, arranging symbolic olympic games and also contests of the "Fear Factor" style.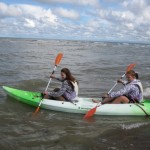 The campers were taking care of all services in rotating groups on duty for food distribution, garbage collecting, cleaning the wash area.  Moreover during the evening events, young campers introduced their cultures, music, dance, traditions and even own food to each other. The taste of the cheese was fascinating, since we made it ourselves from the milk that we milked from the goat the previous day.
Both my students and me, we have experienced new things together with other campers in Latvia. We have become more aware of and share the beauty of Mother Nature. We've participated joint activities with excitement and pleasure. Surviving through various challenges, our souls relaxed, our bodies got healthier, we started to have more trust both in ourselves and others.
On our flight back home, İlayda, my 16 year old student then, told me with tears in her eyes, "..if I didn't go there, I'd never learn how to handle the new situations/challenges of life by myself".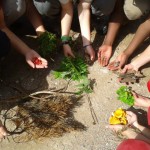 Regardless of all differences that we had in, where we come from, climates,  geographies, cultures, and beliefs, we managed to collectively create friendship and sharing atmosphere, there in that beautiful countryside. We have managed to leave our own biases, fears and self-limitations aside. Now I understand better that, to have accomplished those challenges and to remember them was the actual AWARD in Latvia.
NOTES:
(1*)International Award for Young People, was initiated in 1956 first, by the Duke of Edinburg, husband for, her majesty Queen Elizabeth, in United Kingdom. All those educational institutes engaged with this student social development program are bounded by International Award Association which is located in London.
The national authority of this program in Turkey is "Gençlik Ödülü Derneği", which started first in 1994. Since 2003 it has its nation wide activities and cooperations. (For further information www.ugo.com.tr )