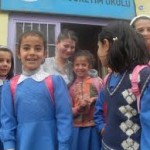 I had been a more or less socially aware individual. However along with the task of implementing IB Diploma Programme, a whole new and holistic approach to a mono cultural school environment, I figured out that, a lot depends on true role modeling of the pedagogical leader.  The issue in fact is improving the overall institutional culture with small moves. Here I would like to share a village school study that we enthusiastically joined efforts with a group of my students from early IB cohorts.
During the regular meetings with the students, the common tendency of the group was to find out a small rural or poor area regional health care center or a school and financially contribute a particular need of that place which we can afford. This could well be a mere transferring some money to a place that is allegedly in some need. The whole amount of money that we had was just enough to cover to purchase one latest release, popular cell phone only. This was raised from occasional muffin and pastry sales at different times of the year. So the students of this private school coming from families of high standards seemed not so much appreciative with it.  Along with ordinary office work and several other things, I personally wanted them to get into a hands-on learning experience through this project.
Through some connections from the parents we managed to reach a small health care center and even a distant public school. However with our on site visits, obviously did not need anything from our side. We made few more attempts however failed to find the right address in its every meaning.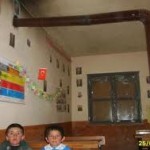 It was almost the end of the school year, my students were bored already, time was very tight. And I was about to despair. On our way back from another irrelevant visit with student representatives, we almost accidentally come across with an isolated looking tiny village about 40 km away from Ankara city center. The road to "P.." (name of the village) was very bad indeed. We found their elementary school from which we had no prior information or any kind of contact. We simply opened the rusty gate of the little dusty school yard and walked in and immediately surrounded by kids enjoying their brake.
The only teacher to whom the kids immediately took us to was Erkan hoca, was a tall man in his late twenties. He was quite understandably astonished to see us.  It was my students before me, to tell cheerfully why we were there. He then said you are most welcome.  Erkan said that he is the teacher for joined class of grades 1-2 and 3. There must be another teacher to grades 4 and 5, too, but we have never seen her. Erkan hoca said that he is the acting school principal too.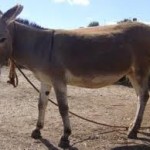 This school had the standards of few decades ago.  It must have been some number of years the last time this modest village school of four rooms ever had a repair and paint. There were three old stoves for heating.  We were relieved since thinking that we have eventually found the right place. There were lots of things to be taken care of.  The roof leaked, the rainspout did not function, classroom walls needed a good repair and paint as well as the exterior of this little building. We needed to make a real good plan with our money which was limited indeed. Later my student group started finding out prices of house painting and relevant materials.  
Some parents were also involved in the following days. It was Alper bey, father of one of the most hard working girls, who was at the board of the parent teachers association who joined the team.  He brought Vahit, a skillful construction worker to take care of the roof and the rainspout.  After he was done, we formed a team of painters just the day first days of the summer holiday. early morning we were in "P.." village. The team consisted of two teachers (one is me), eleven energetic IB students, and one parent Alper bey and Vahit the worker.
There and that day, we had a different role, all our identities, social status, daily used lotions were somewhere else after as soon as we started peeling the classroom walls off  before the paint. Apparently nobody in the team was experienced at all, except for Vahit, thanks to him, that he guided us what exactly to do.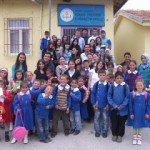 With the distinct smell of cows, natural fertilizers in the air, loud occasional cries of donkeys and barking dogs in Pecenek was a kind of life time experience to my students and to me as well. This must have been the first village that these students have ever seen that close and live. Few kids from the village helped us and we all enjoyed this lovely interaction.
We hardly realized that, it was already late evening. I later on found out that the parents of the student group was worried, since they were not able to reach any of us from the mobile phones. Like other public services, mobile phones were very poor there too. At the end of the day, on our way back home, none of us had any fancy hair styles or fashionable clothes, we were all so exhausted. I was watching the already shining stars up  in the sky, while we were still in the  countryside. The mobiles were all on by then. Just as were about to enter the big city again, another beautiful moment in my profession to hear such a sincere question – Can we please come together next weekend and visit this village one more time ?